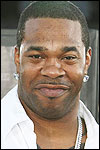 Trevor Tahiem Smith, Jr.
populer dengan nama
Busta Rhymes
, lahir di Brooklyn, New York, AS, 20 Mei 1975. Ia adalah penyanyi hip-hip selain dikenal sebagai aktor.
Nama
Busta Rhymes
diberikan oleh
Carlton Douglas Ridenhour
atau
Chuck D
yang juga penyanyi hip-hop dari grup Public Enemy. Nama itu diambil dari nama George 'Buster' Rhymes, seorang pemain sepakbola kelahiran Miami, Florida.
Karirnya sebagai penyanyi diawali saat menjadi anggota grup musik hip-hop,
Leaders of the New School
bersama Charlie Brown, Dinco D dan Cut Monitor Milo. Dan mulai melakukan rekaman pada 1998 lewat album
A Future Without a Past
.
Sementara debut karir solonya dimulai album
The Coming
yang dirilis 1996. Menyusul kemudian berturut-turut album
When Disaster Strikes (1997), Extinction Level Event (1998), Anarchy (2000), Genesis (2001), It Ain't Safe No More (2002), The Big Bang (2006)
dan
Before Hell Freezes Over (2007)
yang rencananya akan dirilis 26 Juni mendatang.
Terkait kehidupan pribadinya,
Busta Rhymes
menjalin hubungan dengan perempuan bernama, Joanne. Dari hubungan mereka dikarunia anak laki-laki yang diberi nama T'ziah.