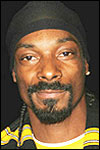 PERSONAL
Cordozar Calvin Broadus Jr.
terkenal dengan nama panggung
Snoop Dogg
, lahir di Long Beach, California, AS, 20 Oktober 1971. Ia dikenal sebagai penyanyi rap, produser rekaman dan aktor layar lebar. Ayahnya meninggalkan keluarga saat dia berusia 3 bulan.
Ibunya memanggil dirinya dengan sebutan 'Snoopy' karena bentuk matanya yang kecil, dan kemudian mengambil nama alias 'Snoop Doggy Dogg'. Kemudian disingkat menjadi
Snoop Dogg
pada 1996.
Keluarga
Snoop Dogg
adalah keluarga musisi. Sebut saja saudara sepupunya yang juga musikus hip hop, RBX, Nate Dogg dan Daz Dillinger. Sementara penyanyi
Ray J
dan
Brandy
adalah pamannya.
Snoop
menikahi kekasih yang sudah dipacarinya sejak duduk di bangku sekolah menengah, Shante Taylor, pada tanggal 12 Juni 1997. Kemudian pada tanggal 21 Mei 2004, Snoop berpisah dengan Shante. Pasangan ini kemudian menikah kembali pada tanggal 12 Januari 2008.
KARIRSnoop Dogg
pernah bekerjasama dengan
Dr. Dre
memproduksi lagu tema untuk film
DEEP COVER
. Lagu tersebut sukses dan mengundang banyak penyanyi berduet dengan penyanyi yang kerap mengunakan kacamata hitam itu.
Penyanyi yang pernah meraih Best Rap Performance atas penampilan Duo-nya dengan Dr. Dre itu juga seorang bintang film. Beberapa filmnya di antaranya,
MURDER WAS THE CASE (1994), HOT BOYZ (1999), CRIME PARTNERS 2000 (2001), BABY BOY (2001), HOOD OF HORROR (2006),
dan lain sebagainya.
DISCOGRAPHY
DOGGYSTYLE (1993)
THA DOGGFATHER (1996)
DA GAME IS TO BE SOLD, NOT TO BE TOLD (1998)
NO LIMIT TOP DOGG (1999)
THA LAST MEAL (2000)
PAID THA COST TO BE DA BOSS (2002)
R&G (RHYTHM & GANGSTA): THE MASTERPIECE (2004)
THA BLUE CARPET TREATMENT (2006)
EGO TRIPPIN' (2008)
MALICE N WONDERLAND (2009)
DOGGUMENTARY (2011)
FILMOGRAPHY
1994: MURDER WAS THE CASE (PLATINUM)
1998: CAUGHT UP
1998: HALF BAKED (CAMEO APPEARANCE)
1998: DA GAME OF LIFE
1998: HOT BOYZ
1998: RIDE
1999: WHITEBOYZ
1999: URBAN MENACE
2000: THA EASTSIDAZ
2000: UP IN SMOKE TOUR
2001: BABY BOY
2001: TRAINING DAY
2001: KING OF THE HILL (VOICE)
2001: BONES
2001: THE WASH
2003: MALIBU'S MOST WANTED
2003: OLD SCHOOL
2004: STARSKY & HUTCH
2004: SOUL PLANE
2004: VOLCANO HIGH
2005: BOSS'N UP
2005: RACING STRIPES (VOICE)
2006: THE TENANTS
2006: WEEDS: HIMSELF
2006: HOOD OF HORROR
2007: ARTHUR AND THE INVISIBLES (VOICE)
2007: MONK
2007: THE BOONDOCKS
2008: SINGH IS KINNG (AS HIMSELF)
2008: SNOOP DOGG'S FATHER HOOD (AS HIMSELF)
2009: FUTURAMA: INTO THE WILD GREEN YONDER (VOICE)
2009: DOGG AFTER DARK: HIMSELF
2009: XAVIER: RENEGADE ANGEL (VOICE)
2009: BRüNO (CAMEO APPEARANCE)
2009: FALLING UP
2010: DOWN FOR LIFE
2010: ONE LIFE TO LIVE AS CALVIN BROADUS
2010: STRAIGHT OUTTA L.A. (AS HIMSELF)
2010: FREAKNIK: THE MUSICAL
2010: MALICE N WONDERLAND AS MALICE
2010: BIG TIME CHRISTMAS AS HIMSELF
2011: 90210 (TV SERIES) AS HIMSELF
2011: ROAST OF DONALD TRUMP